Meetings
Next Meeting Is Friday, August 7, 2015

"FM Radio at 560 THz Enables Single-Molecule Detection and Spectroscopy, Paving the Way to the Nobel Prize"
by Professor W. E. Moerner, WN6I, Nobel Laureate

Prof. Moerner will talk about science in his youth, concentrate on the original experiment as a signal detection problem similar to FM in ham radio, and briefly mention some of the current work.

W.E. Moerner's early years as a ham in high school eventually led to the study of electrical engineering, physics, and mathematics in college and optical studies of vibrations of molecules in graduate school. All of these experiences built upon themselves throughout his career, eventually leading to the optical detection of a single molecule in a solid in 1989 at IBM Research. This was achieved with laser FM spectroscopy, which involves frequency modulating a visible light beam at low modulation index to detect narrow spectral features with quantum-limited sensitivity. Effectively, the single molecule acts as a demodulator of the FM signal, converting the FM to AM, much like good old FM radio, but at 560 THz. This was the beginning of single-molecule optical studies which are having a broad impact on imaging in chemistry, physics, and biology today.
Past Meetings
Click on The Year/Month Below For A Past Meeting
Club Meetings





The Palo Alto Amateur Radio Association meets on the 1st Friday of the month at 7:00 pm (19:00 J) (except when the first Friday lands on a holiday and typically moved to the 2nd Friday of the month).

PLEASE NOTE: The meeting location has changed. We will now be meeting in Meeting Room H6, in the Cubberley Community Center in Palo Alto. Further information is below.

Click Here For Detailed Driving Directions

Location: Cubberley Community Center; 4000 Middflefield Road, Palo Alto, CA 94303.
Telephone: (650) 329-2418.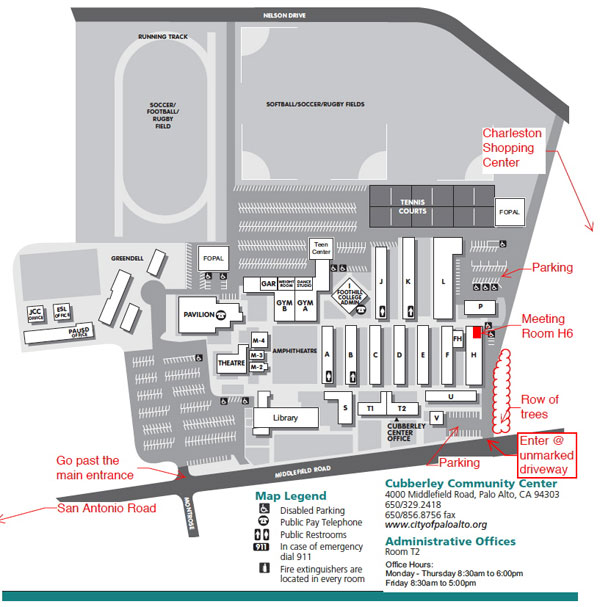 After the meeting, many members gather for beer, pizza, and eyeball QSOs at Round Table Pizza, located on El Camino Real, just a few blocks north of Ravenswood Avenue.
Location: 1225 El Camino Real, Menlo Park, CA 94025



Board Meetings



The PAARA Board meets on the 3rd Wednesday of every month at 7:00 pm (19:00 J) at Round Table Pizza, located at 1225 El Camino Real, Menlo Park, CA 94025, just a few blocks north of Su Hong. We conduct most of our club business here in order to allow more time for guest speakers and socializing at regular club meetings. Any PAARA member is welcome to attend.

A few meetings throughout the year have pre-defined agenda items. These include:



September Board Meeting


The Nominating Committee is appointed by the President to decide on a slate of candidates to be recommended to the membership.



October General Meeting


The Nominating Committee presents its nominations to the membership at the regular club meeting. Nominations from club members opens at the beginning of the meeting, and closes at the end of the meeting.

December General Meeting
Elections are held at the December annual meeting.

Board of Directors and Appointed Staff